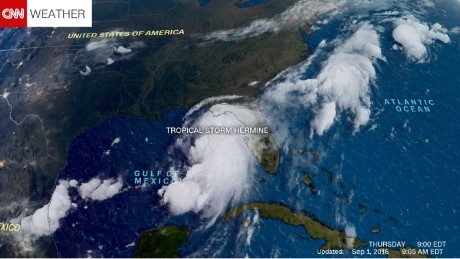 (CNN)Any Labor Day weekend plans that included a beach trip may have to be changed for residents living in coastal areas from Virginia to Connecticut as Hermine's winds pick up speed on its way north, forecasters say.
"Wind and water hazards of a variety of kinds are things we have to contend with throughout Labor Day weekend," National Hurricane Center Director Rick Knabb said Saturday. "Certainly a bad weekend to be on the beach and on boats."
Greg and Margee Germaine were celebrating a wedding anniversary Saturday at Atlantic City, New Jersey, having cocktails on the beach and getting blasted by sand.
They said they were still enjoying their time at the shore.
"It may not be swimming weather, but it's been beautiful," Margee Germaine said despite the overcast skies and heavy surf.
The National Weather Service said the winds there Saturday afternoon were 25 mph, with gusts of 35 mph.
Elizabeth Brister, 23, saw her Labor Day weekend plans blow away in the wind.
"Right now, it's looking like we're not having much of any beach fun," she told CNN. "I was just pelted in the face with sand and I actually have sand in my contact right now. It kind of hurts."
Masbahul Islam, a pedicab driver who has worked in Atlantic City for six years, said the Labor Day crowd is much smaller than in years past. Two concerts were canceled and Islam said that — as well as the weather forecast — kept a lot of people away.
A handful of people came out to the beach near the famous Steel Pier amusement park, mostly to look at the rough seas. The pier was closed Saturday.
Strengthening expected
The storm was expected to spend the next several days meandering in the Atlantic, gaining some strength. Hermine will once again have hurricane-force winds again Sunday, though it is classified as a post-tropical cyclone.
Storm surge could be 3 to 5 feet above the ground during high tide in areas from northeastern Virginia to New Jersey through the weekend.
"At a minimum, we're going to have some beach erosion, rip currents and dangerous waves all the way from the south facing shores of New England, Cape Cod, Nantucket … down to the Hampton Roads area," Knabb said.
New Jersey Gov. Chris Christie declared a state of emergency Saturday for Ocean, Atlantic and Cape May counties.
"The impending weather conditions constitute an imminent hazard," he said in a statement. "This situation may become too large in scope to be handled by the normal county and municipal operating services."
The National Weather Service said some minor flooding could begin Saturday during high tide. But that will be just the beginning of the trouble.
"Widespread moderate to major flooding is now expected with the Sunday evening high tide and the Monday morning high tide, especially from Atlantic City south to coastal Delaware, when the storm is expected to make its closest approach to the area," the weather service said, adding that significant beach erosion is forecast.
The good news is rainfall in New Jersey and Delaware is expected to be only between 1 and 3 inches.
Winds like a hurricane
Hermine could reach wind speeds of 75 mph as it strengthens Sunday, forecasters say.
"That strengthening could impact places from Nantucket, Cape Cod, New York City, even up and down the New Jersey coast," said CNN meteorologist Allison Chinchar.
"The combination of a storm surge and the tide will cause normally dry areas near the coast to be flooded by rising waters moving inland from the shoreline. There is a danger of life-threatening inundation during the next 24 hours in the Hampton Roads area," the Hurricane Center said Saturday evening.
"There is also the possibility of life-threatening inundation during the next 48 hours at many coastal locations between Sandy Hook, New Jersey, and Bridgeport, Connecticut," the Saturday evening advisory reads.
Read more: http://edition.cnn.com/